With reductions in staff funding and an increasing number of clients who are eligible for Legal Aid services, LASC simply cannot meet this need alone.
Please see the individual pages for more information on how to get involved by one or more of the following:
Accepting a case through one of our Referral Projects such as the Volunteer Resource Center;
Attending a Brief Advice and Referral clinic;
Assisting clients at a Brief Service Clinic; or
Volunteering part-time with one of our In-house Teams.
LASC offers several benefits to its volunteers:
Training
Malpractice Coverage
Mentors
Attorneys who handle pro bono case referrals or who provide legal advice to pro bono clients must be active and in good standing with the Ohio Supreme Court. We have additional opportunities for corporate counsel, law students, paralegals, and other community members.
Thank you for your interest in contributing to the work of The Legal Aid Society of Columbus!
---
AUGUST 2013 VOLUNTEER SPOTLIGHT
Jim Park
Volunteer Attorney
This month, LASC acknowledges attorney Jim Park.
LASC asks for a commitment of two cases per year for all of its pro bono case referral projects. With the leadership of Judge John Hoffman, the participation of the Chapter 7 Pro Bono Bankruptcy attorneys has been remarkable since the project began in early 2012. Many members of the pool handle more than two cases per year, but today we wish to highlight the work of one bankruptcy attorney in particular who has truly stepped up to help LASC with its bankruptcy work -- James Park.
A 2007 graduate of Capital University Law School and former associate at Marshall D. Cohen LLC, Jim was drawn to the Chapter 7 pro bono project early in his career because of his desire to help the underprivileged. This project allows attorneys to provide assistance in their own area of expertise, rather than learning a new area of poverty law.
"With the pro bono program we are usually helping someone who is possibly in the worst financial position they have ever or will ever be," Jim reflects. "The benefit that is provided to people in need is tremendous."
Read our full story on Jim's significant impact on our work at LASC here.
---
Mary Nienaber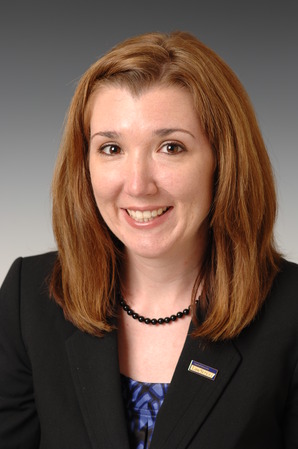 LASC also wishes to congratulate attorney Mary Nienaber, who recently accepted a position in student affairs at The Ohio State University Wexner College of Medicine. Mary has been an enormous asset to LASC in her role as Pro Bono Coordinator for Capital University Law School. Under Mary's leadership, the number and range of Capital Law students participating in pro bono has drastically increased. Because of Mary's efforts, students have stepped up to offer assistance with Brief Advice & Referral Clinics, the newly created Bankruptcy Bypass clinics, PACO Wills clinics, and the Chapter 7 Pro Bono referrals. Shawn Beem, Director of Professional Development noted, "Mary was an exceptional pro bono coordinator at Capital. She took a program of a few participants and turned it into a respected program that only continues to grow. We have big shoes to fill at Capital."
Mary has always been committed to serving the legal needs of our low-income community. Prior to taking her position with Capital, she spent countless hours volunteering in-house at LASC and worked as a law clerk for the LASC housing team during law school.
We are grateful for all of the work she has done and know she will continue to do great things in her new position. While Mary has promised to stay involved as a volunteer at LASC-sponsored clinics, there is no question the Columbus pro bono community has lost a strong leader, and she will be greatly missed!
---